Yokohama Triennale 2023 will be held from December 9, 2023 to March 10, 2024
The following article is current as of June 30, 2022.
For the latest information, please click here.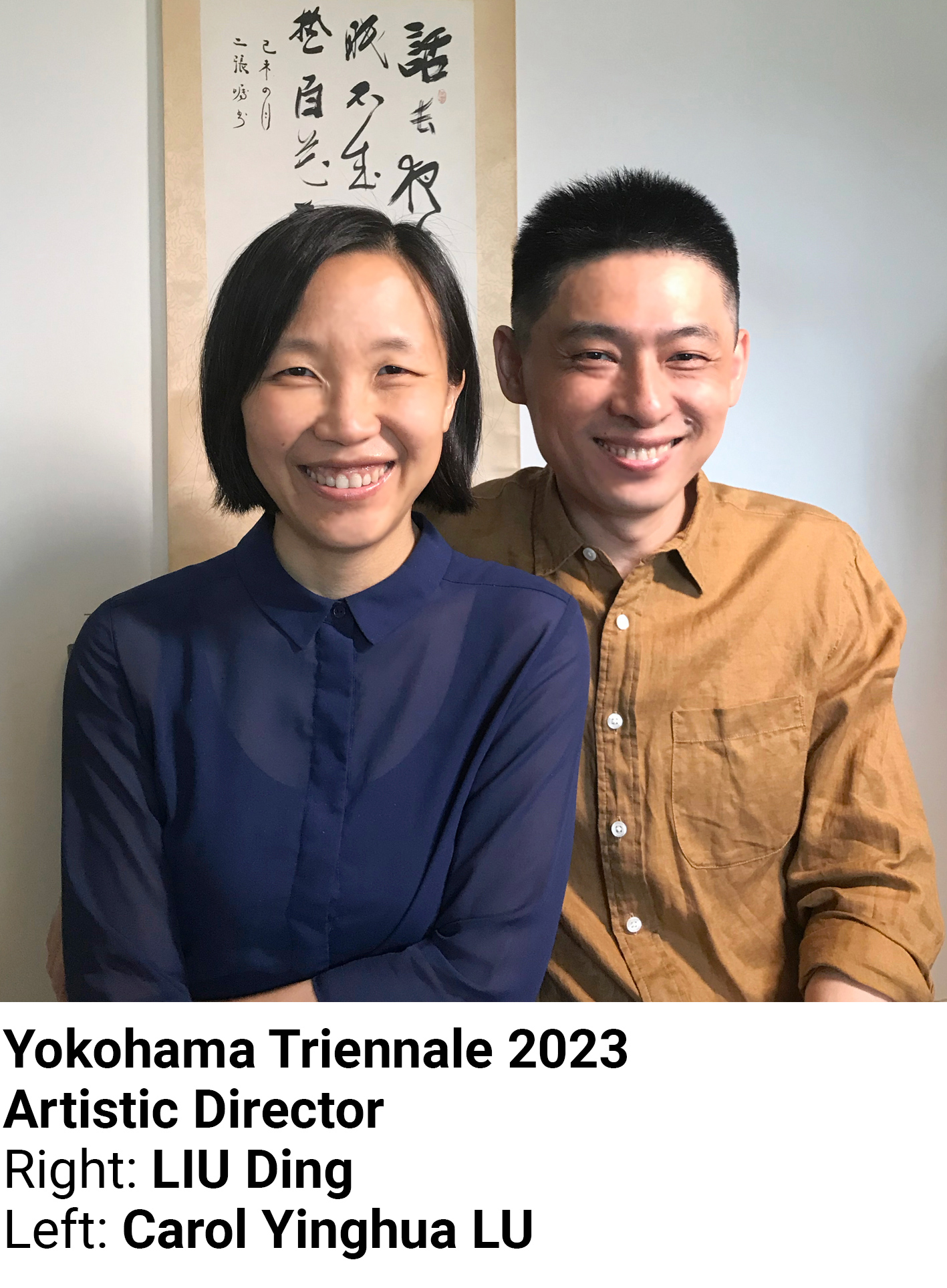 The Organizing Committee for Yokohama Triennale (Chairperson: Kondo Seiichi [Chairperson, Yokohama Arts Foundation]) has appointed the team of Liu Ding and Carol Yinghua Lu as artistic director of Yokohama Triennale 2023, the 8th edition of the tri-annual event.

The Triennale will be the first major event held at Yokohama Museum of Art after extensive renovations are completed. The event's second venue will be PLOT 48. This edition of the Triennale will be the first to be held in winter.
Liu Ding and Carol Yinghua Lu are an artist and art historian respectively who started joint curatorial work in 2007. Based in Beijing, they have participated in international exhibitions around the world including the Venice, Gwangju, Istanbul and Busan biennales.
In a time of historical flux, their curation seeks out kernels of wisdom for surviving the present in both the minutiae of individual endeavor and the grand turning points of history. Their frame of reference transcends time and place, as they seek ideas in everything from traditional oriental philosophy to the globalized lifestyles of the 21st century.
The Yokohama Triennale welcomed its first non-Japanese artistic director for its 7th edition in 2020. Since then the ongoing challenges of COVID-19 and war have shown us just how inextricably interconnected our world has become. For the 8th edition, we once again welcome as artistic director a team that is active on the global stage, and with them we look forward to creating an event that is open to the world and that takes advantage of our port city's role as a crossroads of people and culture.
The port city's art missive to a world in conflict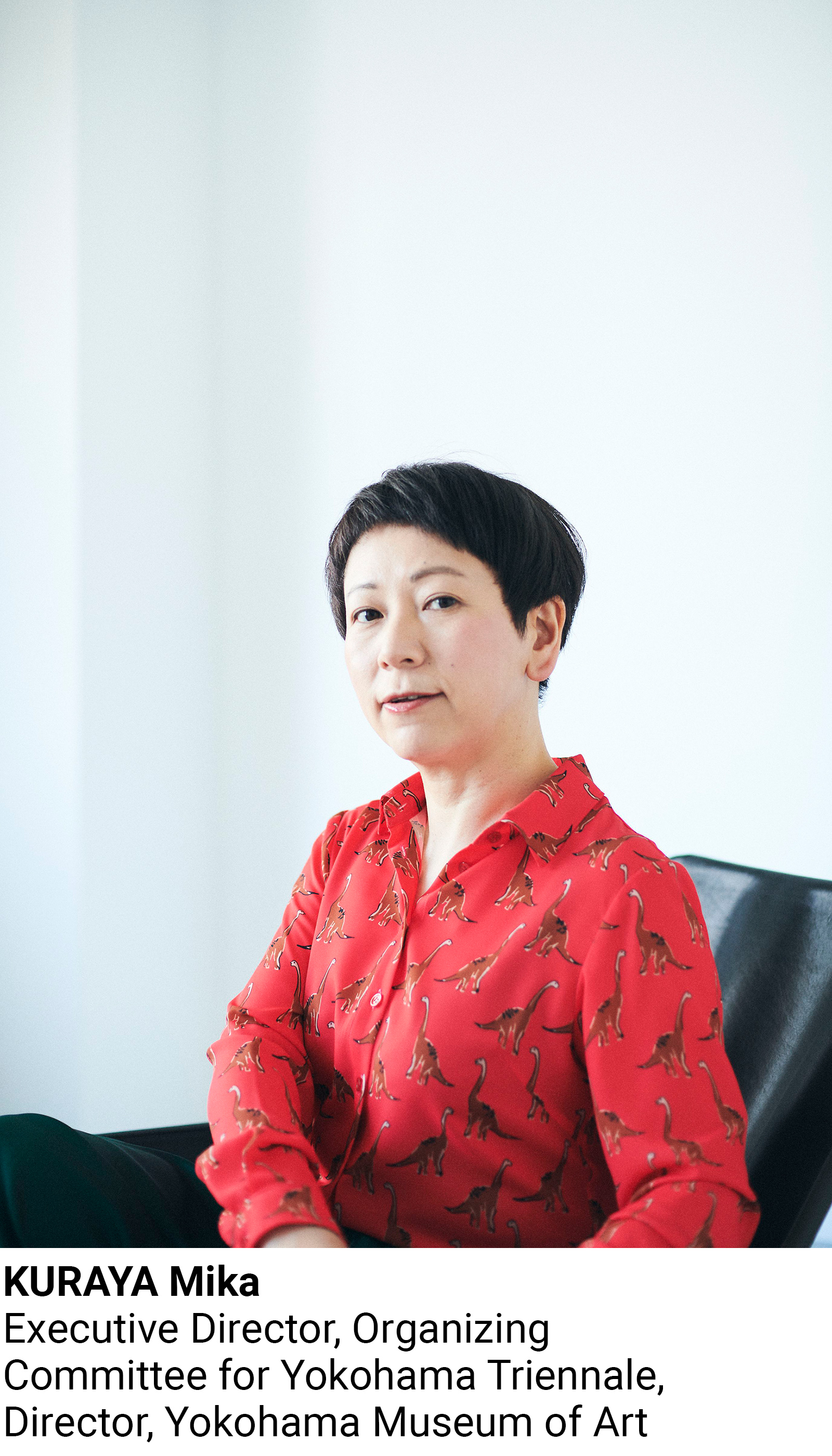 Twenty-one years ago, the Yokohama Triennale kicked off with the title "MEGA WAVE" and the goal of becoming "a great civic festival." Since then, it has largely continued that mission of being a "festival" for people from all walks of life, held at "port" lapped by the waves of the ocean.

Having celebrated our 20th anniversary, it is now time for the Yokohama Triennale to reconsider and update those two key concepts of "port" and "festival."

A "port" is a place that enables not just vibrant interaction but also occasional clashes between people and ideas. A "festival" is an occasion that stimulates and seeks to extend not just collective affinity but also collective zeal.

Like globalization itself, both can engender new friendships and new conflicts. If so, we must ask ourselves what kind of message could be delivered from a "festival" that is informed by the spirit of a "port"?
Once again, for our 8th edition we welcome artistic directors who are active globally, and with them we look forward to engaging with the world through art.
Yokohama Triennale 2023
Artistic Director:

LIU Ding [Artist, Curator]

Carol Yinghua LU [Art Historian, Curator / Director, Beijing Inside-Out Art Museum]

Dates:

December 9, 2023 – March 10, 2024

Venues:

Yokohama Museum of Art (3-4-1, Minatomirai, Nishi-ku, Yokohama, Kanagawa, Japan)
PLOT 48 (4-3-1, Minatomirai, Nishi-ku, Yokohama, Kanagawa, Japan)

*The Yokohama Museum of Art is currently closed due to large-scale renovations. It will reopen to coincide with Yokohama Triennale 2023.

Organizers:

City of Yokohama,
Yokohama Arts Foundation,
Japan Broadcasting Corporation (NHK),
The Asahi Shimbun,
and Organizing Committee for Yokohama Triennale