Overview
The Yokohama Triennale is an international exhibition of contemporary art held in Yokohama once every three years. The exhibition features both internationally renowned and up-and-coming artists, and presents the latest trends and expressions in contemporary art.
Since its inauguration in 2001, the Yokohama Triennale has addressed the relationships between Japan and the world, and the individual and society, and reexamined the social role of art from a variety of perspectives, in response to a world in constant flux.
The first three editions (2001, 2005, 2008) were primarily organized and overseen by the Japan Foundation to enhance cultural exchange between Japan and other countries and cultures through contemporary art. From the fourth edition (2011), the City of Yokohama has been the primary organizer of the event.
The Yokohama Triennale is a national project supported by the Ministry of Cultural Affairs, and also a project that represents the 'Culture, Art and Creative City Yokohama'.
The Mission of the Yokohama Triennale
【MISSION】

The Yokohama Triennale, one of the leading international exhibitions of contemporary art in Japan, will spearhead the development of 'Culture, Art and Creative City Yokohama'and cultivate a spiritually rich society that embraces diversity.
【GOALS】

To open new channels through art

By celebrating contemporary art, the Yokohama Triennale provides opportunities to engage with a wide range of expressions, which transcend any given genre or era, to foster better understanding between people from many different generations and backgrounds.

To engage with the world

As a national project, the Yokohama Triennale strives to contribute to international exchange and mutual understanding through its commitment to conveying new principles and values.

To engage with the community

By collaborating with partners in 'Culture, Art and Creative City Yokohama', the Yokohama Triennale enhances and promotes the unique resources in the city.
【GUIDING POLICIES】

Striving for excellence
Nurturing future generations
Contributing to shaping an inclusive society
Engaging with the Community
Celebrating art
Attracting business and tourism
Organization
Yokohama Triennale is organized by the City of Yokohama, Yokohama Arts Foundation, Japan Broadcasting Corporation (NHK), The Asahi Shimbun, and Organizing Committee for Yokohama Triennale.
Organizing Committee for Yokohama Triennale
Honorary Presidents

YAMANAKA Takeharu(Mayor, City of Yokohama)

【Representative】

INABA Nobuo(President, Japan Broadcasting Corporation [NHK])
NAKAMURA Shiro(President and CEO, The Asahi Shimbun)
Committee Members

KONDO Seiichi(Chairperson, Yokohama Arts Foundation)

【Chairperson】

KURAYA Mika(Director, Yokohama Museum of Art)

【Executive Director】

OSAKA Eriko(Director, The National Art Center, Tokyo)
ADACHI Tetsuroh(Director General of Sports Culture and Dynamic City Development Bureau, City of Yokohama)
TATEHATA Akira(The Museum of Modern Art, Saitama)
TANAKA Yoshinori(Controller, Cultural Promotions, Content Value Development Center, Japan Broadcasting Corporation [NHK])
TSUKA Hiroko(Executive Vice President, The Japan Foundation)
HIBINO Katsuhiko(President, Tokyo University of the Arts)
YAMANOUCHI Ken(The Asahi Shimbun)
Organizing Committee for Yokohama Triennale Office
Managing Director
YONEZAWA Yoko(City of Yokohama)
Managers
MARUYAMA Akiko(City of Yokohama)
YAMAKI Naofumi(The Asahi Shimbun)
YAMADA Takuji(Japan Broadcasting Corporation [NHK])
Deputy Executive Director
HOASHI Aki(Yokohama Arts Foundation)
Special Committee
Artistic Director Selection Committee
as of June 1, 2023
The City of Yokohama
Located near Tokyo, Yokohama is the second largest city in Japan, with a population of 3.7 million people. It was one of the first commercial ports that Japan opened to the world in 1859 after 200 years of seclusion, and has been the gateway for the transfer and transmission of various people, objects, values and systems, leading Japan's modernization and nurturing an amalgam of different culture.
Yokohama is an international port city that is also a popular tourist destination. Many visitors are attracted to the city where the combination of a modern cityscape and historical landmarks look over the busy commercial port with ships coming and going under the open sky.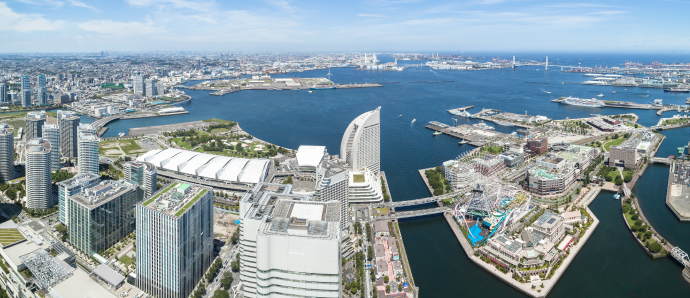 【Access】
The terminal station, Yokohama, is approximately 30 minutes from JR Tokyo station, 25 minutes from Haneda Airport, and 90 minutes from Narita International Airport by train.
【Yokohama City Culture, Art and Creative City Measures】
Yokohama City Culture, Art and Creative City Measures make the most of the city's greatest strength – the unique history and culture of its port – and utilize "the creativity" inherent in art and culture in order to develop an urban environment that give rise to new values and appeal. As the pioneering Creative City in Japan, Yokohama has pursued these measures since 2004.
Administered not only by the government but also in cooperation with local citizens, NPOs, and creators, Yokohama has established a "Creative City Core Areas" to effectively utilizing the Central Seaside Area's historical buildings and public spaces.In recent years, these efforts have helped expand the network between cities both inside and outside Japan, promoting "Culture, Art and Creative City Yokohama" at both national and international levels.