Artistic Director / Curators
Artistic Director
Mizusawa Tsutomu
Chief Curator, The Museum of Modern Art, Kamakura & Hayama
Born in Yokohama in 1952. Obtained MA from Keio University, Japan and joined the Museum of Modern Art, Kamakura as curator in 1978. Specializes in German modern/contemporary art and Japanese modern/contemporary art and its encounter with foreign culture.
Author of Kono Owari no Toki ni mo (Even at the End) (Shicho-sha, 1989) and Tenzai-suru Chushin (Interspersed Center) (Co-author/editor, Shunjusha, 1995), among others. Curated many exhibitions, including "MOBO, MOGA / Modern Boy, Modern Girl: Japanese Modern Art 1910-1935" (1998/co-curation with John Clark, Jackie Menzies etc.), "Isamu Wakabayashi" (1997), "Antony Gormley - Still Moving" (1996), "Asian Modernism" (1995 co-curation with Akira Tatehata, and Junichi Shioda), and "Katsura Funakoshi" (1993).
He was appointed as the Japanese commissioner of the "Asian Art Biennale Bangladesh" in 1993 and 1997, and of the São Paulo Biennale in 2004. Lives in Kanagawa prefecture.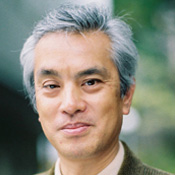 Photo: Mikio Kurokawa
Curators
(in alphabetical order)
Curator's statement.