Luke Fowler and Tsunoda Toshiya
Luke Fowler and Tsunoda Toshiya (UK/Japan)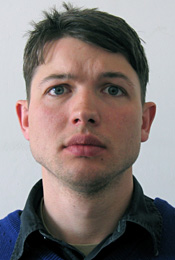 Fowler: Born 1978 in Glasgow. Lives and works in Glasgow.
Tsunoda: Born 1964 in Kanagawa Pref. Lives and works in Yokosuka.
Fowler is an up and coming young Scottish filmmaker and won the first Jarman Award (named after the late Derek Jarman, one of his country's foremost filmmaker) established in 2008 with the intent of honoring richly experimentally minded filmmakers. He sublates the creative and recording aspects of movies, and tries to explore further possibilities for film expression.
Tsunoda is a sound creator known for his using environmental sounds as a motif. From the late 1980s he began working in the plastic arts and doing field recordings and continued to produce highly experimental sound works. He is particularly highly acclaimed abroad, frequently producing works for sound art exhibitions, and releasing CDs from various country's labels.