A luminous interval, a glowing anticipation, a lambent flow, a charged current of energy between thickets of presence and becoming
Raqs Media Collective
July 2020
The milieus that emerge with a Triennale are an invitation to a migration of concerns, hibernating or urgent, from distinct and diverse locations. They then stand re-aligned and re-drawn, suspended in co-presence. We commenced our own crossing, leading to this edition of the Yokohama Triennale, about two years ago, with questions about care, about care with toxicity, about care and friendship, about luminosity within friendship, and about cosmologies of luminance. We shared these sources, not only with the artists but also the world in Episōdo 00.
Meanwhile, in the course of a few months, a tiny virus, an un-living being, emerged, upending assumptions and assigning a task to the entire species. For the first time in human history we, all the billions from all parts of the world, have to undertake — in awareness of each other — the re-making of forms of life. It has brought to the foreground the necessity of re-apprehending the world.
We are now in the afterglow of an unfamiliar, viral, and partly unreadable time, and are without familiar protocols. Alone, and collectively, we have to navigate the oscillation of scales, quickened by the alteration in familiar rules. We are now immersed in a turbulent flow whose pressure rides through us all.
The Afterglow is also a site: it is this exhibition where you walk through deliberations with artists, activating an auto-didactic impulse for the sensing and making of the spectrum that arches from our inner to our cosmic worlds. Autodidacts learn and un-learn everything. If necessary, they need to become misfits in relation to all that is given and taken for granted, because when all the functions and instructions that are written into the manual for fixing a world can't be fixed, they must be altered.
The Afterglow is also an infrastructure of relationships, of precepts and affects, of an ability to see and narrate the world with patience and wonderment. This scaffolding helps us sense tremors and fault lines, breakdowns and breakthroughs in the pulsations of life. These capacities are necessary to access sources within us, which may sometimes be hidden in the reservoirs of our common life, of our connected and contiguous landscapes. They help script the forging of bonds, and of affinities and sororities, so as to change the rules of the game.
In the Sourcebook (2019) to Afterglow, we had shared an amazement, which we would like you to feel again:
"Life, the universe, the world, and the time of each day disintegrates and gets re-constituted through innumerable acts, incrementally rebuilding through luminous care. Broken minutes are mended in the afterglow of time's toxic debris.
Life is a luminous autodidact."
In this Afterglow, we welcome you.
Raqs Media Collective
New Delhi, 2020
---
April 2020
A name holds so much within it. After all, it evokes scenarios, it conjures the known and the unknown, it draws affinities, it gestures to affections, and it has to travel in time.
A name takes time, and asks for time. In a milieu that challenges our abilities and capacities to be together, the Triennale needed a name that could permeate everywhere, and yet not become a sole force muddying the multiple and diverse presences brought into the Triennale process. With the post-thematic move that this Triennale is working with, and with its attempts to bring in artists and publics into an encounter that is premised on unpredictable discoveries, surprises and discernment, we, Raqs, wanted a name that was low on determinacy but was full of living effervescence — with all it's joys, charms, hazards, and mysteries.
With this in mind we proposed the title "Afterglow" a luminous interval, a glowing anticipation, a lambent flow, a charged current of energy between thickets of presence and becoming.
"Afterglow" invites you to be in proximity to the radiant, fluctuating glow of probes and premonitions, blending anticipation and projection with the calmness of rumination and the pugnacity of assertion. It invites you to lose your inhibitions, and find a vivid joy that can come with meeting the unfamiliar.
Here art plays whimsical and yet disorienting sport; it intimates a playful ease with the growing recognition of non-humans; it recalls histories of collective will and individual obstinacy; it observes variations of known forces, and it draws us closer to confront the fear of the toxic.
Sometimes it invites us to be inside the aura of an explosion; somewhere it is the bioluminescent semaphore that signals life in the depths of the ocean; elsewhere it is the radiance of friendship, the glow of care, or the sparkle of sentience in the eyes of an autodidact.
Imagine the Yokohama Museum of Art, and the Plot 48 as 'thicket hosts': temporary shelters for the biological diversity of the mind and the imagination. In these times, when we have begun to learn a new vocabulary of 'social distance', think of a thicket — the very opposite of the exclusionary principle that a pandemic unleashes. It brings to mind an image of density, immersion, and entanglement. It is also interesting to think about the state of alertness the mind enters into while navigating a thicket. It slows the experience of time. A transformed experience of time can bring forth a form of compassion that is as caring as it is contagious — where contact, and a state of awareness about being in contact, is the key to a return to safety, without the fear of banishment of the contagious. It is welcoming of different forms and propensities of life.
This edition — Yokohama Triennale 2020 — is deliberately hospitable to the diverse currents of our diverse world. From it's very first moment it will cajole people to see the world as made of liquid states, dissolving and blurring our hold on fixed certainties, making edges dance as centers, where wilderness is not opposed to civilization, and where there is a defiance to the assumed insularity of cultural ethics.
"Afterglow" presents works that turn space into complex diagrams of thought and feeling. It comes into close contact with the ancient, rubbing against time to discern untested futures. It reconstructs objects of wonder by piecing together the broken shards of archaeological remains. It blooms like a giant flower in an alien greenhouse. It finds desire for life in its search for immortality, and enjoins incommensurable cosmologies. It locates resources for difficult love in an abandoned hospital, even as it wonders on the eroticism of flora and fauna.
We promise, along with our artists and companions, that in navigating this thicket of clamor and silence, acceleration and detour, the experience of time will be altered. The ticket to this thicket is an invitation to a shared time of alertness to minor notes, along with a reverie in populous folds of time.
It finds a way to glow at dense currents, bearing its own light.
"Afterglow" lights up an awareness of what it means to keep making art in the twenty-first century.
Raqs Media Collective
April 2020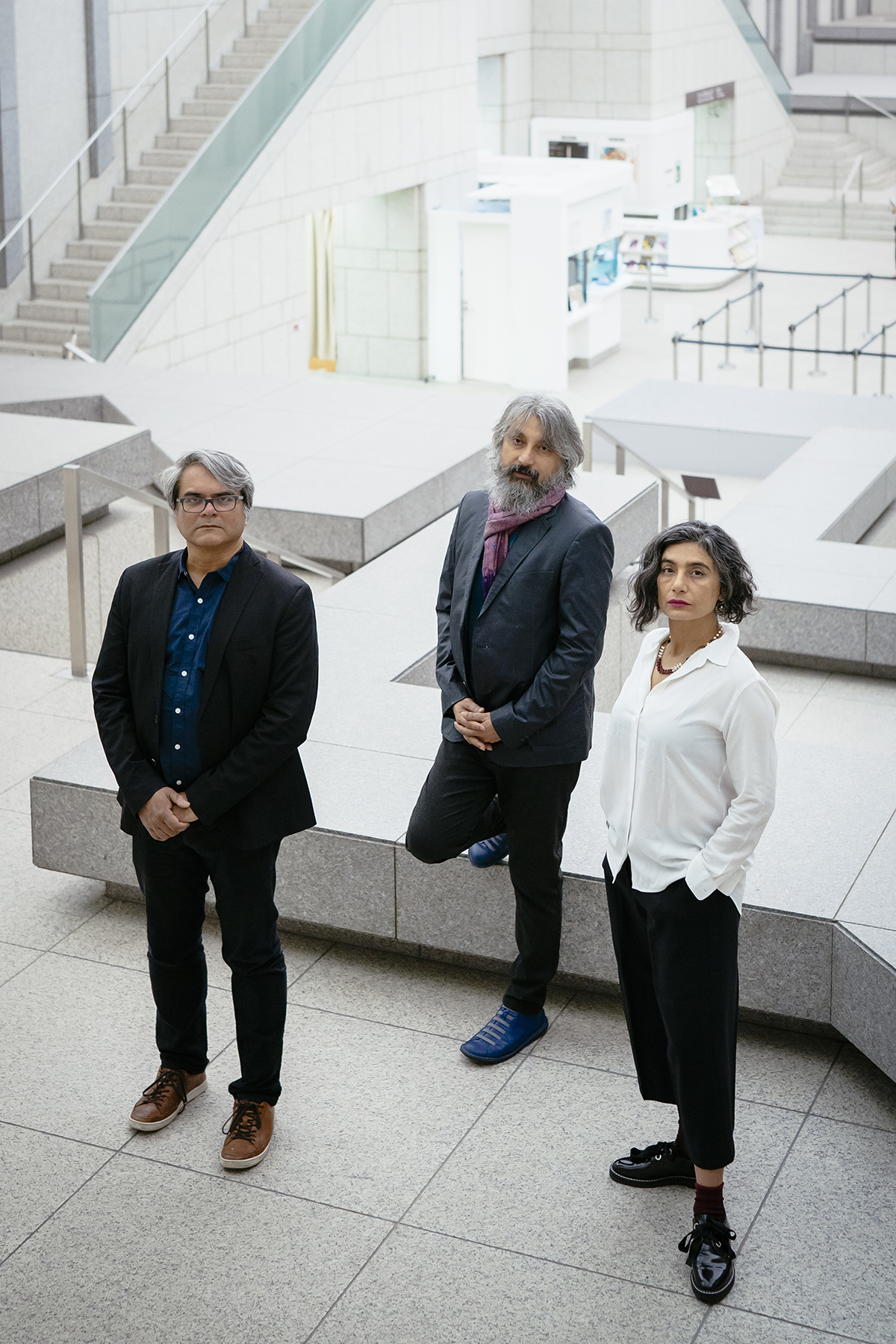 Photo: KATO Hajime
---
Yokohama Triennale 2020
launches Sourcebook and the Episōdo series
November 2019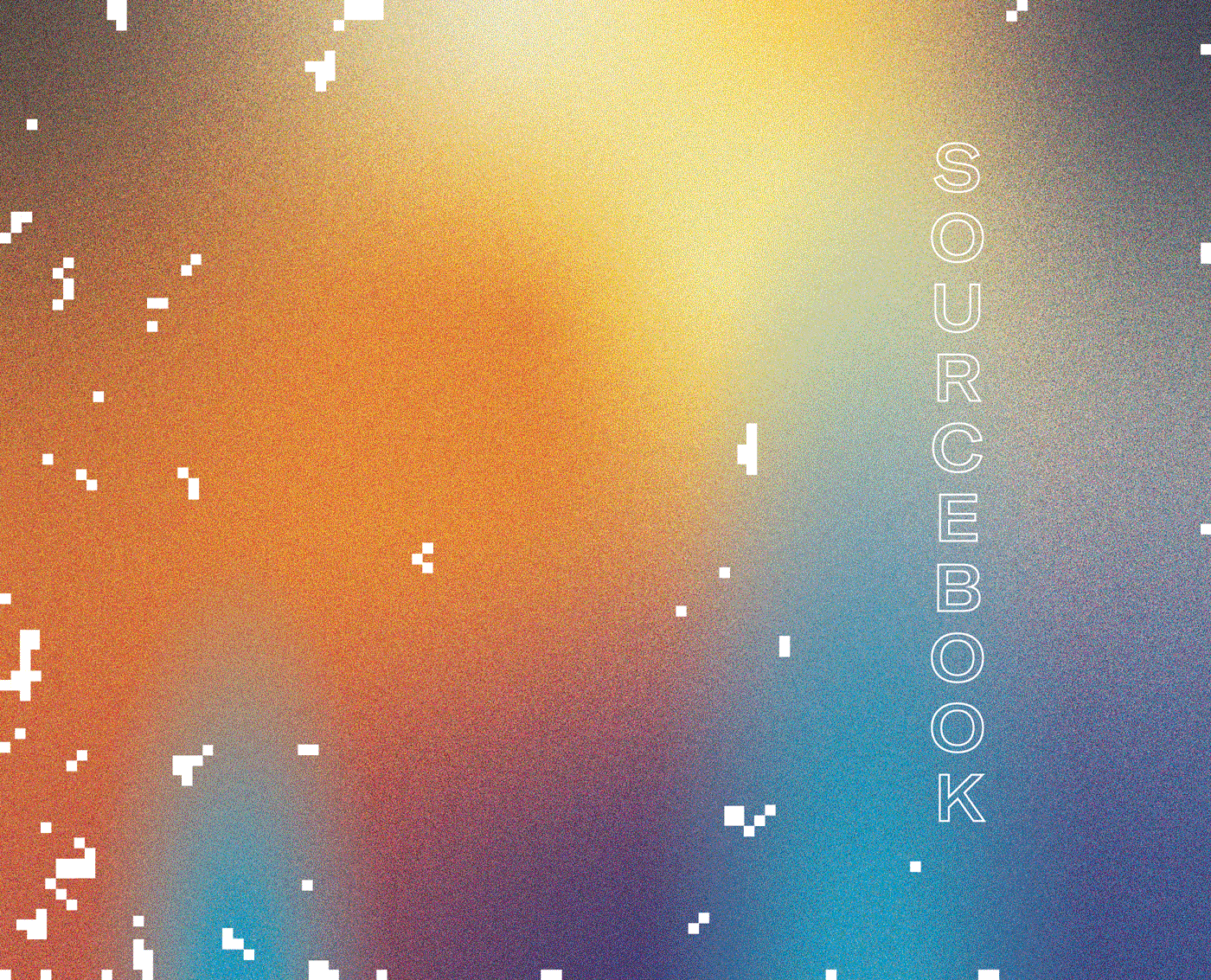 The 7th edition of the Yokohama Triennale begins with the launch of a print and digital publication, Sourcebook, which introduces the sources that the Artistic Directors of this edition—Raqs Media Collective—have convened in the process of their curatorial investigation.
Yokohama Triennale will commence with Episōdo 00, "Sharing Our Sources." The periodic occurrences of the Episōdos will travel through Hong Kong, New Delhi, and Johannesburg before returning to Yokohama during the exhibition phase of the Triennale, starting July 3, 2020.
Raqs argues that exhibitions are milieux, staged and ported within complexities. Complexities are entanglements of material, technical, and social forces, often with an uncertain compass, generally incomprehensible, sometimes intelligible. Formed of stratified sediments, hibernating worlds and immediate urgencies, complexities also contain multiple milieux.
These milieux are thickets of affective and conceptual densities, with unreachable edges. Milieux are emergent formations, contingent and perforated, open to historical drifts and lesions, sometimes escaping human agency, begetting extra-human presences.
Exhibitions partake in the making of milieux through creating their own specificities of sources. It is through sources that a heterogeneity of contending time horizons can nest within a milieu. These sources are particular, minor, moments in the human voyage. In their re-alignment and re-drawing through each other, they suspend a frame of co-habitation and transferal between protagonists.
This Sourcebook's gathering of sources embraces a formation of a milieu with notions of care, toxicity, auto-didacticism, friendship, luminosity, persistence and radiance — all of which come together in a way that helps make sense of the now, in the now. A Triennial is not a unity that is searched for and consolidated, but a plurality of complexities, each drawing from and into the other, vibrating divergent and convergent lines. The Sourcebook registers this attitude and records this as the curatorial framework's awareness of itself. One source opens the door to another, and then another, and another.
The Sourcebook learns from Nishikawa Kimitsu, a Yokohama day labourer who embodies what it means to be a curious sojourner, an autodidact adrift in the universe. Elsewhere, it gleans from two itineraries back in time with points of origin elsewhere in space, on how to care for the self and for selves: In 16th century Southern India, heavenly bodies, plants, minerals, animals and angels crowd the Deccani book Nujum al 'ulum (Stars of the Sciences) written as a 'medicine to care for the lives of friends'. And then, a hundred odd years ago, Hariprabha Mallik leaves a town in what is now Bangladesh, travels to Japan for the love of a stranger, Takeda Uemon. Her memoir dives into the creation of the farm and the kitchen as she traverses another world.
Nishikawa's musings that connect the street to the cosmos, the many forms of life and matter thought of as "friends" in the 16th century Deccani manuscript, and Hariprabha Takeda's journey all light up different corners of consciousness. They point to energies that irradiate the co-existence of complex forms of life. The biologist Shimomura Osamu spends a lifetime of research being lit by the phenomenon of bio-luminescence. The theorist and writer Svetlana Boym seeks the luminosity of friendship in her essay, "The Scenography of Friendship."
The Sourcebook places in proximity these excerpts in order to know, to hold and behold, an egalitarian, non-rivalrous stance between divergent, and occasionally even contrary, arcs of making, vision, and utterance. It desires them into becoming contagious and contiguous with each other, to create eddies and currents of energy that stretch the Yokohama Triennial's temporal rhythms, and its semantic field.
Episōdo 00 will commence with a meditation on the haunted life of information, and proceed further to enquire into the poetics of retention, the endurance of bodily composure, the chaos of consciousness, and culminate with a face-to-face encounter with entropy.
The readings, soundings and afterimages presented in the autumnal light of the November Episōdo inaugurate and anticipate what is to come in the midsummer afterglow at the opening of the seventh edition of the Yokohama Triennale in July 2020.
Artists in Episōdo 00: Shintaku Kanako, Tamura Yuichiro, Ivana Franke, Lantian Xie, and Hicham Berrada with Komatsu Kazumichi
Sourcebook Design: Ariane Spanier