IWAI Masaru, a Japanese artist who explores the theme of "cleansing," presents Broom stars, a real-world and online hybrid project involving over 50 participants exploring the meaning of cleaning and decontamination in a post-Fukushima, post-COVID Japan.
About the Project
Project participants were tasked with creating their own full-face masks using brown paper bags that had been covered in graphite – a nod to that material's use in some nuclear reactors. Wearing their own variously decorated masks, the participants then photographed themselves cleaning a public location near their homes. They then reconvened online to discuss their experiences and view photos of their actions. Broom stars as a project comprises all three stages – creating the masks, cleaning and discussing – and the photos were collated and have now been displayed online and at the triennale's Yokohama Museum of Art venue.
View the Project Photos on Instagram:
Photos from the project can be viewed at the official Instagram account: https://www.instagram.com/broom_stars/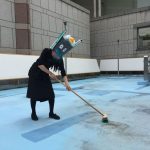 Broom stars, Actions by participants
Why "Broom stars"?
The term "broom stars" stems from the Japanese word for "comet," which is rendered using the Chinese characters for "broom" and "star": 彗星.
Curatorial Introduction
50,000 years of human living have been about making tools, transforming habitats, and cleaning. About cleaning, no stories are told. Life with difficult materials and biomes has meant learning to clean, endangering and risking bodies through proximity and leakage. Tending, fixing, cleaning, mending is part of the labour that sustains living. Time has come knocking: retell the story, tell another story, rework how stories are to be told. It will redraw the map of the world.
Cleaning demands concentration and precision, needs tools and strategies. A layer is removed, and a different time is revealed. To clean is to tend to and be with diverging times of a place.
There is also a question of knowing what needs cleaning, how much to clean it, and when to let something be. To clean an archaeological find is different from cleaning a site that is contaminated—their methods unsimilar, the labour unalike, and it is different as well how the cleaners are perceived.
Between clean and unclean, safe and unsafe, is often just a difference of a degree, a distinction that is of one or a few steps. What makes boundaries—marking pure from impure, dangerous from secure—is a different operation, a process of inclusion and exclusion, a separation of qualities and inequalities.
A residue stays—earth is either buried under earth, or a mountain rises. It is said that cleaning erases itself as much as it eliminates that which it cleans, but what it is actually, is that it stubbornly remains. It leaves a smudge, a mark, a stain, a bruise, an injury, a scar through how it is called and what it is named, and what that conceals and contains.
IWAI Masaru
Born in 1975 in Kyoto. Lives and works in Tokyo.
Iwai's film, installation and performance focus on the mundane act of cleaning and cleansing that would reveal its underlying social and symbolic meanings. As a participating artist of one of the "Episōdo" series in the Triennale, Iwai conducts discussions with the audience and takes actions in response to the cleaning work, based on his experience as a decontamination worker. He participated in the Reborn-Art Festival in Miyagi in 2017 and "New 'Artists Today' Exhibition 2018 Unfixed Perspectives" at the Yokohama Civic Art Gallery in 2018.