2018.11.29
Raqs Media Collective Appointed as Artistic Director for Yokohama Triennale 2020
Raqs Media Collective has been appointed as the artistic director for Yokohama Triennale 2020.
Read the comment by Asada Akira, Chairperson of the Artistic Director Selection Committee for the 7th Yokohama Triennale, here.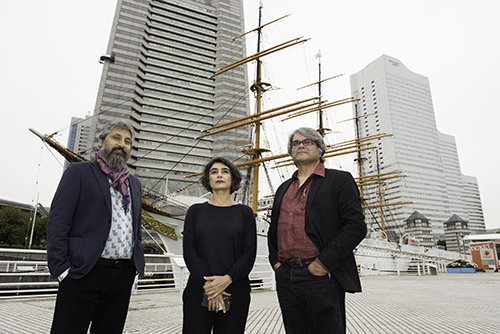 Raqs Media Collective (from left: Jeebesh Bagchi, Monica Narula, Shuddhabrata Sengupta)
Photo: TANAKA Yuichiro
Raqs Media Collective
Raqs Media Collective was formed in 1992 by Jeebesh Bagchi, Monica Narula and Shuddhabrata Sengupta. The word 'raqs' in several languages denotes an intensification of awareness and presence attained by whirling, turning, being in a state of revolution. Raqs Media Collective takes this sense of 'kinetic contemplation' so as to make a restless and energetic entanglement with the world, and with time. Raqs practices across several forms and media; it makes art, produces performances, writes, curates exhibitions, and occupies a unique position at the intersection of contemporary art, philosophical speculation, and historical enquiry. The members of Raqs Media Collective live and work in New Delhi, India. In 2001, they co-founded the Sarai program at CSDS (Centre for the Study of Developing Societies) New Delhi and ran it for a decade, where they also edited the Sarai Reader series.
Raqs Media Collective official website: http://www.raqsmediacollective.net/ 
Exhibitions curated by Raqs Media Collective
"In the Open or in Stealth - ­The Unruly Presence of an Intimate Future" (Museu d'Art Contemporani de Barcelona [MACBA], Barcelona, Spain, 2018-19)
11th Shanghai Biennale "Why Not Ask Again: Arguments, Counter-arguments, and Stories" (2016-17)
INSERT2014 (Indira Gandhi National Centre for the Arts, New Delhi, India, 2014)
"Sarai Reader 09" (Devi Art Foundation, Gurugram, India, 2012-13),
Manifesta 7 "The Rest of Now" (Bolzano, Italy, 2008)
Solo Exhibitions
"Raqs Media Collective: Not Yet At Ease" (Firstsite, Colchester, UK, 2018-19)
"Raqs Media Collective" (K21 Ständehaus, Kunstsammlung Nordrhein-Westfalen, Dusseldorf, Germany, 2018)
"Raqs Media Collective: Twilight Language" (The Whitworth, Manchester, UK, 2017-18)
"Raqs Media Collective: If the World is a Fair Place Then..." (Laumeier Sculpture Park, St. Louis, USA, 2015-16)
"Raqs Media Collective. Es posible porque es posible" (Fundación Proa, Buenos Aires, Argentina, 2015)
"Raqs Media Collective: It's Possible Because It's Possible" (Museo Universitario Arte Contemporáneo [MUAC], Mexico City, Mexico, 2015)
"Raqs Media Collective. Es posible porque es posible" (Centro de Arte Dos de Mayo [CA2M], Madrid, Spain, 2014)
"Asamayavali/Untimely Calendar" (National Gallery of Modern Art, New Delhi, India, 2014-15)
Biennales
Sharjah (11th, 2013 / 13th, 2017), Venice (50th, 2003 / 51st, 2005 / 56th, 2015), São Paulo (29th, 2010), Shanghai (8th, 2010-11), Istanbul (10th, 2007), Sydney (15th, 2006), Taipei (2004-05), Documenta 11 (2002)
Group Exhibitions in Japan
Setouchi Triennale 2019 (Kagawa Prefecture, scheduled in 2019)
SUZU 2017: Oku-Noto Triennale (Suzu City, Ishikawa Prefecture, 2017)
"Chalo! India: A New Era of Indian Art" (Mori Art Museum, Tokyo, 2008-09)
Ogaki Biennale 2006 (Ogaki City, Gifu Prefecture, 2006)