Route for free shuttle bus between venues
・A free shuttle bus service runs between the main Triennale venues (Yokohama Museum of Art and NYK Waterfront Warehouse [BankART Studio NYK]) and the venues for the special tie-up programs (Shinko Pier and the Koganecho area).
・Buses runs at approximately 10-15 minute intervals, depending on traffic conditions. (Please note that there may be changes to boarding and alighting locations and the running times.)
・Staff at the boarding areas will be on hand to answer any questions about arrival and departure times and boarding/alighting locations.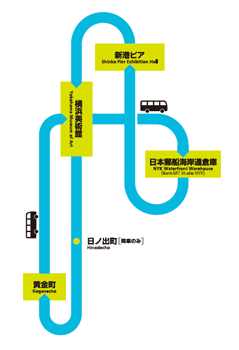 >> >>See here for a detailed map of venues and bus stops(750KB)


FLOOR MAP
・Yokohama Museum of Art >> PDF Download(360KB)

・NYK Waterfront Warehouse(BankART Studio NYK) >> PDF Download(246KB)